Expanding ACTman's possibilities
Hi guys, I am excited to present to you here, our newest update for our ACTman package!
As you might know, we introduced the ACTman software for R as a useful tool for both preprocessing as well as analysis of actigraphy data. Hopefully ACTman will facilitate easier, quicker, and better reproducible actigraphy analyses.
A new piece of functionality we just added – and which I am very enthousiastic about – is the possibility to read in event marker files and automatically convert them to sleep logs within mere seconds!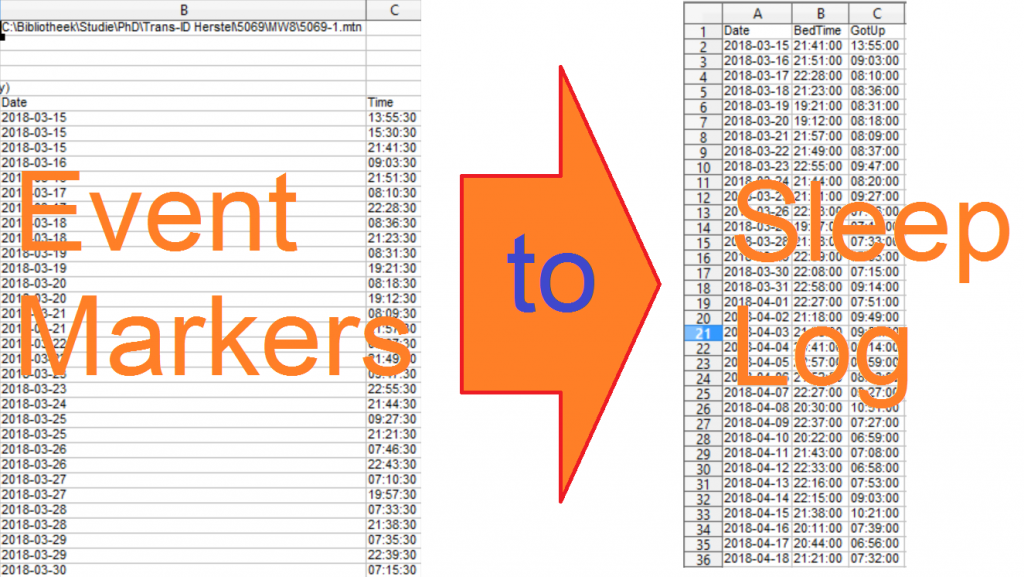 This is an especially handy tool for those researchers who use the marker button to estimate the times of going to bed and getting out of bed. Instead of manually writting these times down, participants can just simply press the event marker.
And instead of having to manually transcribe the event marker times to a generic sleeplog, you can now have ACTman do it for you in a quick and reproducible manner!
And the best part is that you don't have to do anything special for it. 
If you are using the MotionWatch 8, and ACTman detects no sleeplog in your working directory but does detect a marker file, it will automatically transform it to a sleeplog for you.
You also get user control over some decisions. For example, if marker buttons are missing, ACTman offers you the choice to fill them in yourself, fill in the missing value with a mean value, or to abort the analysis.
Furthermore, ACTman automatically removes any other marker between the first and lst mrker press of that day. Multiple false presses are thus no problem for ACTman.
Interested? Check ACTman out for yourself by clicking here!